Shelburne Museum
"One of the seven wonders of New England!" - Yankee magazine (I think)
Shelburne, Vermont
if you're interested, visit the Shelburne's official site, it's extremely good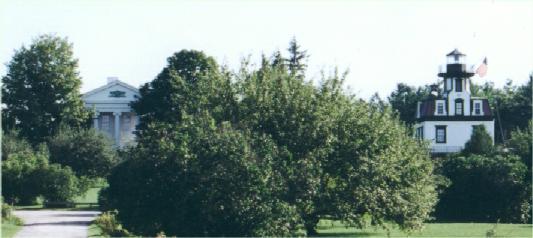 Left: the Electra Havemeyer Webb Memorial Building, built on site in the 1960s
to house the museum founder's collection of paintings, furniture and decorative objects,
which were moved here room by room from her Manhattan apartment.
Electra's parents had bequeathed to her paintings by Rembrandt, Ma, Mo and Degas.
It is really something to see a private house decorated with such high art.
Right: an 1871 lighthouse from the Colchester Reef, Lake Champlain, 1871.
The lighthouse was used until 1933 to mark the position of
three reefs that threatened ships approaching Burlington from the north.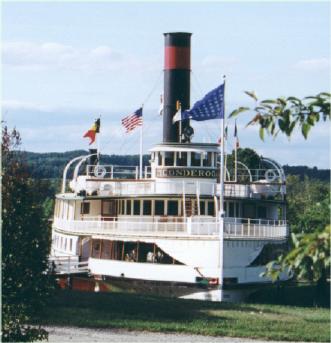 The Ticonderoga, America's last remaining side paddlewheel passenger steamer
with a vertical beam engine (whatever that means!)
The "Ti" was built at the Shelburne Shipyard in 1906
and took passengers from Westport, New York to St. Albans, Vermont and back.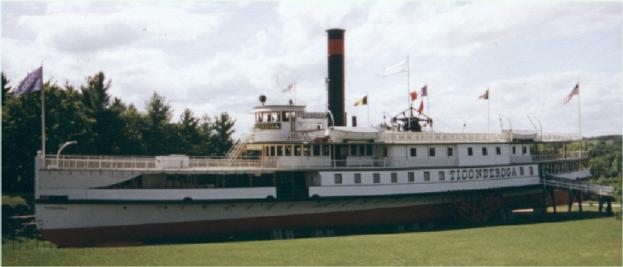 Side view of the Ticonderoga. On board you can watch a film of
how they got the boat from the lake (two miles away) to its current home on land.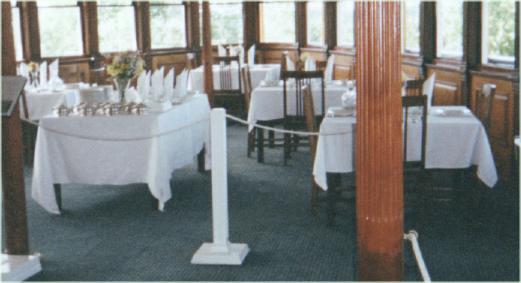 The dining room on the Ticonderoga.
Are you trying to tell me this was nicer than those
fabulous "Bob's Big Boy" rest stops on the New YorkThruway?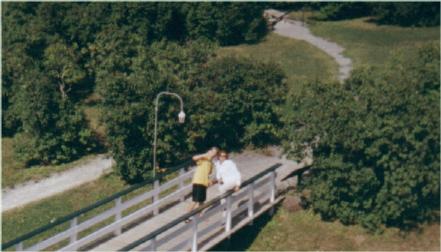 Liese took this shot of Tim and Deb from the top deck of the Ti.
<![if !supportEmptyParas]><![endif]>
| | | |
| --- | --- | --- |
| A horse-drawn hearse | Obviously the precursor to NJ Transit, this stagecoach stopped at New Brunswick, Rahway and Newark--just as Robijn's train does today! | Robijn admiring a real Conestoga wagon. The Conestoga was one of the chief freight carriers in the East from 1750 until the coming of the railroads. |
There are a zillion carriages of all kinds.
The whole original motivation for the Shelburne Museum was
Electra Webb's desire find a suitable building to house her
father-in-law's collection of 47 carriages.
About 150 more have since been added.
<![if !supportEmptyParas]><![endif]>
The Apothecary Shop was constructed on site to look like a pharmacy from the period 1870-1900,
when patent medicines filled with questionable ingredients were claiming to cure everything.
The Shelburne's collection of advertising and packaging from this period is incredible.
<![if !supportEmptyParas]><![endif]>
The museum has dozens of looms from the days when everybody knew how to make their own cloth...
l-Tim at the entrance to an 1890 two-cell jailhouse from Castleton. It was used for fifty years.
r-Megan trying out solitary confinement for a mercifully brief period.
What would a Vermont museum be without a covered bridge?
This one was built in 1845 to span the Lamoille River in Cambridge.
One-room schoolhouse built in 1840.
Originally located in beautiful Vergennes, not far from Shelburne.
Above: l-irons; r-woodworking tools
Below: l-ladles in various materials; r-fanciful objects (such as a hat and an umbrella)
made of tin to be given as 10th (tin) wedding anniversary presents
Note: The Shelburne Museum has amazingly vast collections of everyday household, farm, and occupational objects.
Those nice old ladies in the beautiful round barn up front aren't kidding when they recommend you buy the two-day pass.
This awesome museum (even the three teenagers LOVED it) is on 45 acres and you can't see it all in one day!

On to the little blue camps
On to Camp Peterson
On to North Hero Island
On to Montreal
Back to THP