Thanksgiving 2005,
the Anaphylactic Thanksgiving!
The three sisters, who have actually seen each other three times this year! (see here and here)
The night before, Bert hosted her world-famous Dumpling Fest,
a great pre-Thanksgiving dinner because it's so completely different from the holiday meal.
Note to Bert: we want your carrot-ginger soup recipe and we want it now!
Michael was headed to Pennsylvania for Thanksgiving
but made it to Dumpling Fest with his new girlfriend Nancy.
We all like Nancy and we're happy for Michael.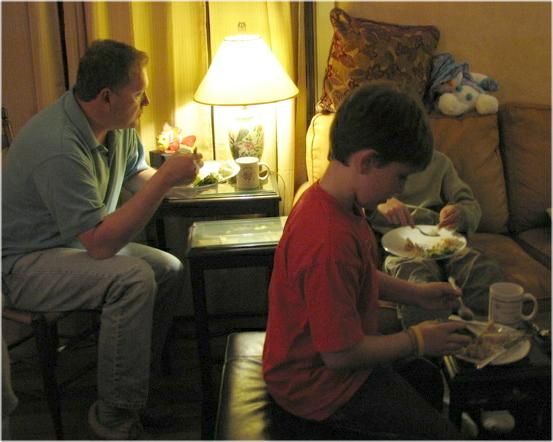 Stephen and Dylan enjoying Bert's delicious dumplings, rice, and Asian salads and sauces.
Stephen was not feeling well and was therefore not at his usual eat, drink and be merry best.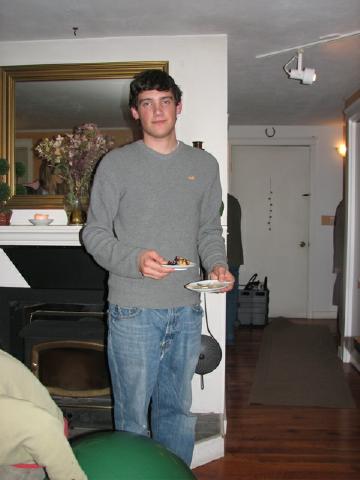 Tim goes back for more...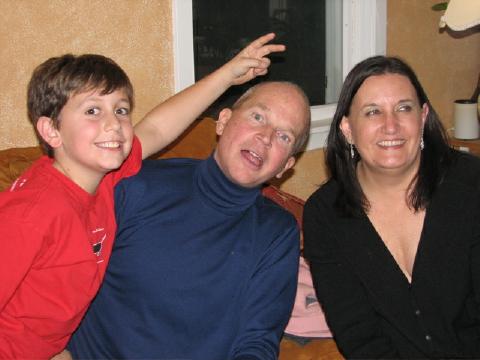 Dylan, Michael and Deb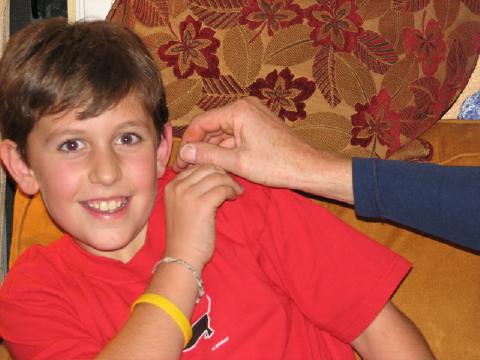 Dylan gets his ear tweaked...
Michael and Dylan accuse each other of starting it!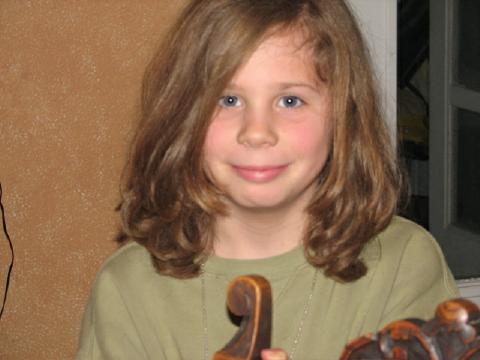 Dylan's friend Sam, he of the still-long hair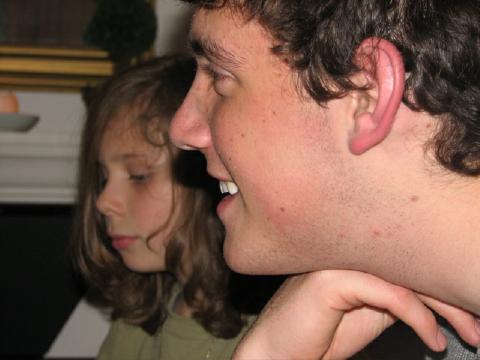 Sam and Tim
Liese in tie-dye at Aunt Bert's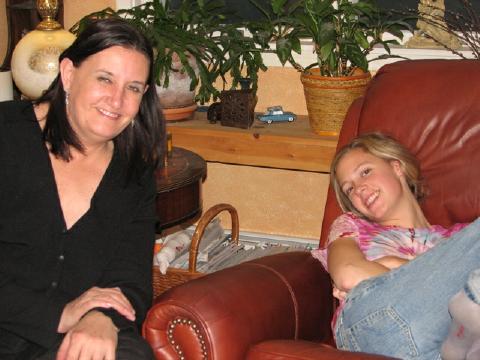 Deb and Liese relax after their dumplings.
Everyone was stuffed and happy.
Little did they know what would happen the next day...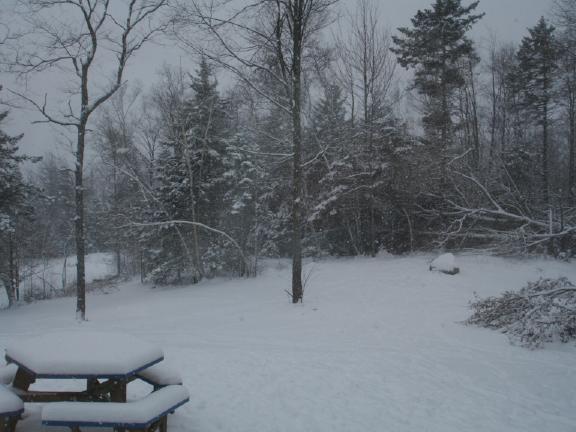 We had driven up from Jersey in clear weather on Wednesday; there was
already snow on the ground in Vermont and it started snowing again that night.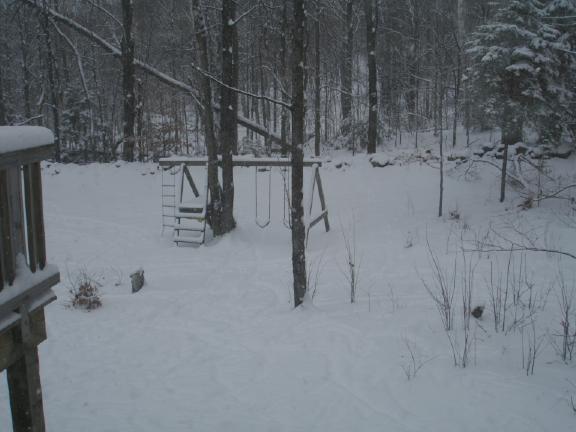 It snowed all Thanksgiving day until there was about 12 inches on the ground.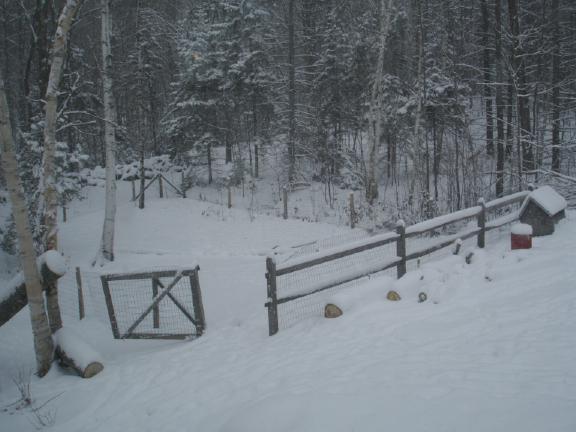 The roads were terrible, people were putting chains on their tires,
but Jude's property shore looked purty.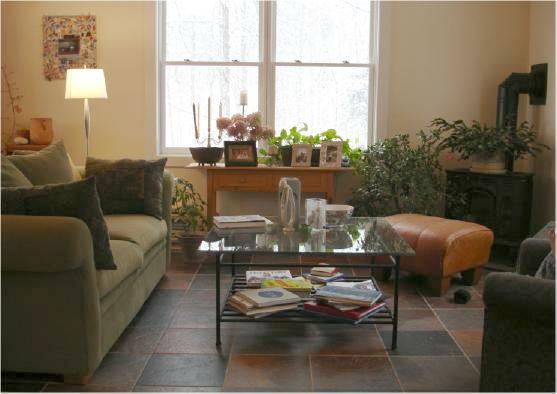 All ready for a houseful of guests, the chic sunken living room,
with radiant floor heat and a picturesque but unfortunately non-functioning stove in the corner.
(brrr! it's cold upstairs at Jude's!)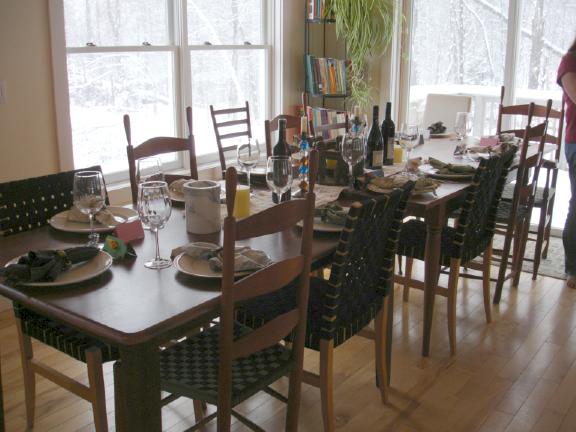 Jude set a beautiful table, with placecards by Angus
(horns-of-plenty made from Bugles and Fruit Loops)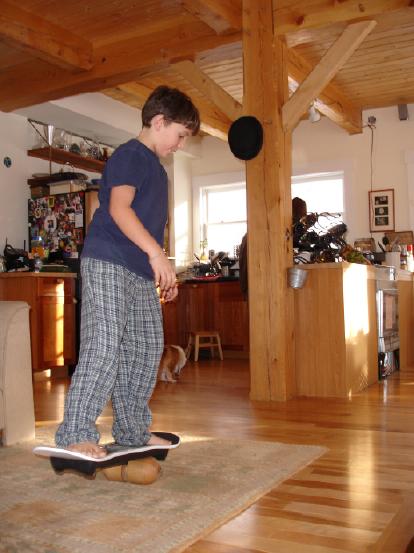 Dylan on his Vew-Do board...a very simple but ingenious device
that lets you practice the balancing skills you need for skiing,
snowboarding, skateboarding and surfing, right in your own home!
Warning: those over 21 may be taking their life in their hands.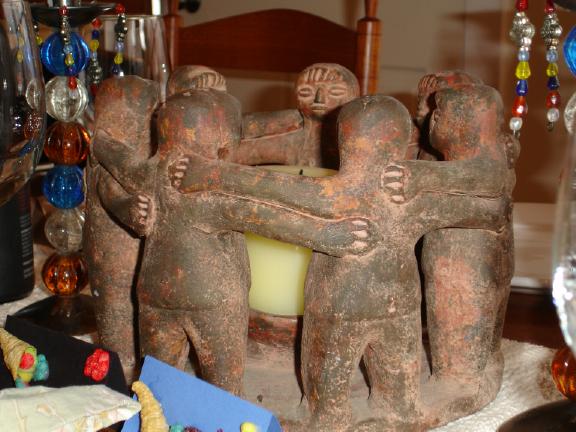 Jude's traditional "let's all come together and EAT!" centerpiece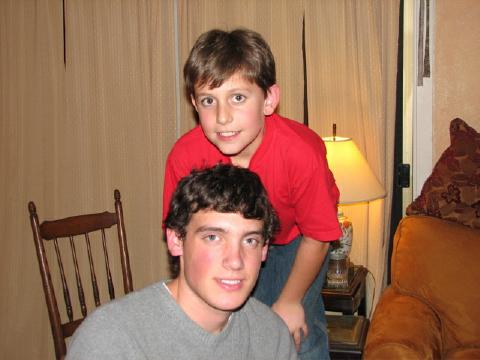 Tim shows Dylan his favorite computer game, World of Warcraft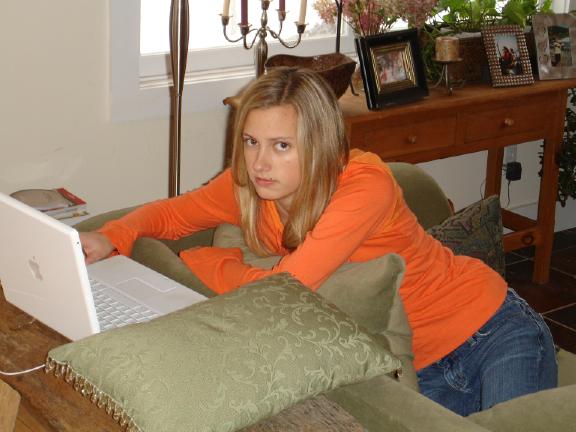 Liese wants to know why I am taking this picture of her on Tim's iBook...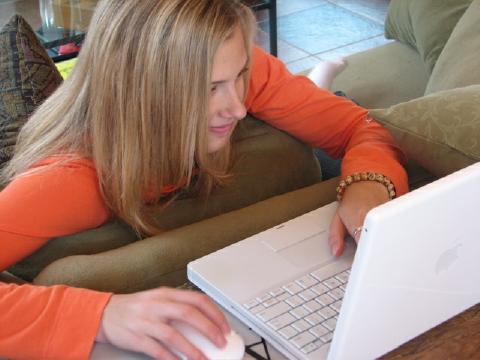 I don't know but Aunt Judy took one too!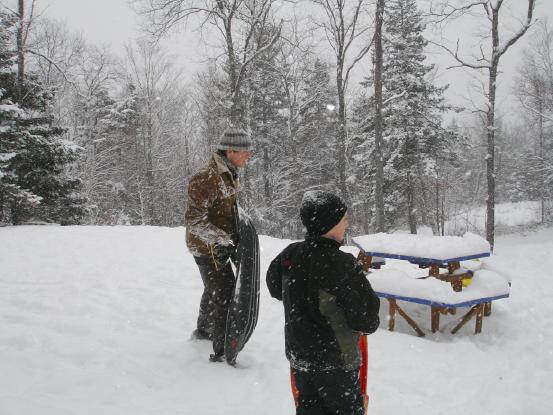 Tim and Dylan go sledding while the grownups start cooking...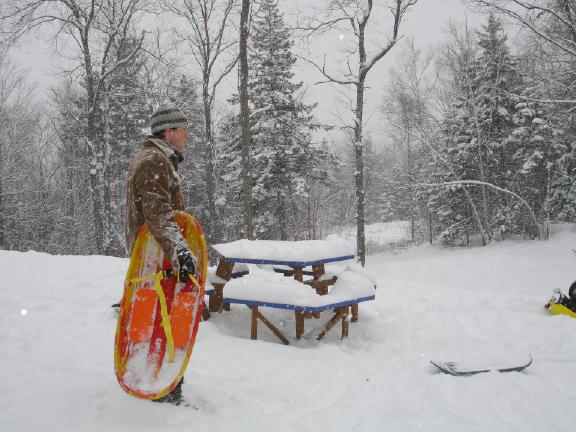 It was a regular winter wonderland, except it was fall.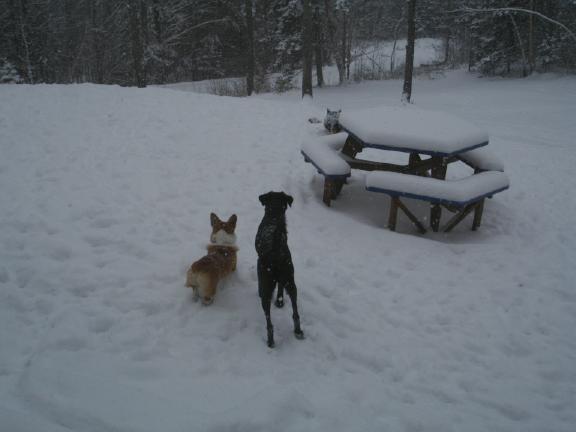 The dogs were having a blast in the snow.
Dylan snowboarding in his backyard while Tucker gets his board ready.
MEANWHILE...Steve M. had a severe allergic reaction to the potatoes he was peeling and ran upstairs to look for some Benadryl. He found a couple kiddie tabs and took them, then went back downstairs to finish the potatoes...next thing we knew he had collapsed and was convulsing on the kitchen floor.

Jude remained level-headed and called 911...the Mad River Valley Ambulance Service had a couple of supremely competent volunteer EMTs on the scene in about 10 minutes, even though Jude lives in the middle of nowhere halfway up a mountain and it was snowing hard and it was Thanksgiving Day! They stabilized Steve with oxygen, an Epi stick and an IV.

Half an hour later the third and last local ambulance arrived, the other two having crashed en route. They took Steve to the hospital where he got more epinephrine (that's adrenaline, folks, and it COMPLETELY reverses all the processes that go wrong when you have a severe allergic reaction). Pretty soon he was sitting up and talking and otherwise back to normal, although he will not be peeling potatoes ever again...

So we had a strange Thanksgiving dinner...in Jude's house without Jude! She and Steve got back from the hospital about 9:30...everybody was gone and the place was cleaned up and their plates were in the refrigerator...but at least they finally got to eat and a tragedy was averted.

Thanks, MRVAS!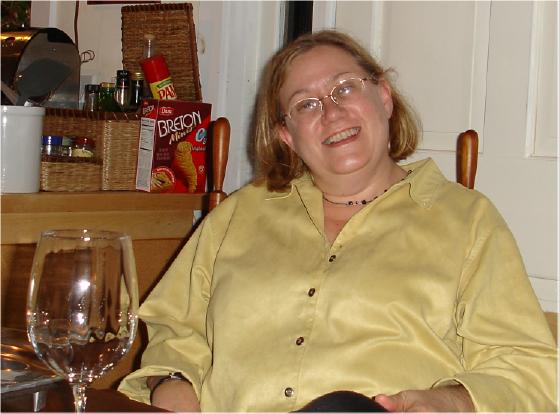 Here's Aunt Bert relaxing after doing a lot of the cooking
and, much to her surprise, co-hostessing the event
with Deb and Jeannie in the sudden absence of Jude.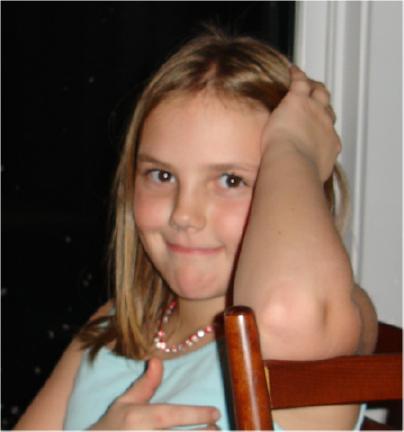 Matt and Jeannie's lovely daughter Carly
takes a break between dinner and dessert.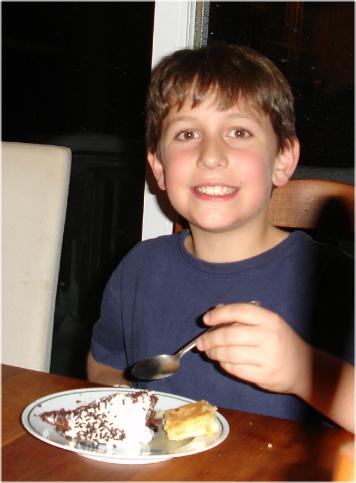 Dylan digs into some of the chocolate cake he made that morning with Liese,
but it was Bert's lemon bars (on right) that the kids liked the most.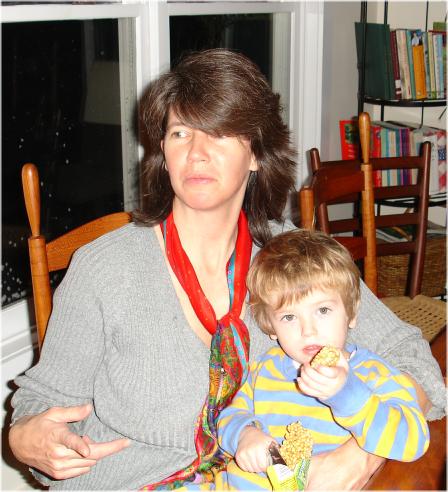 Lisa and Duncan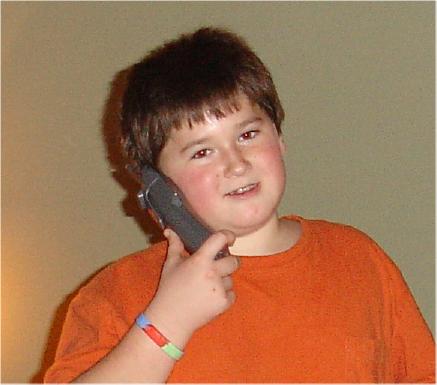 Angus was glad to talk to his father once
he was stabilized and about to be discharged.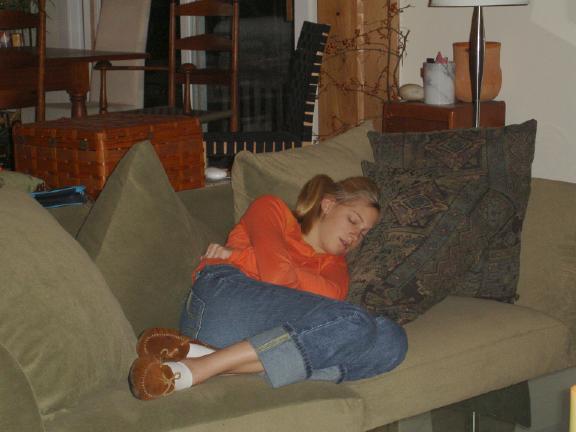 Liese waits for Judy and Steve to come home from the hospital...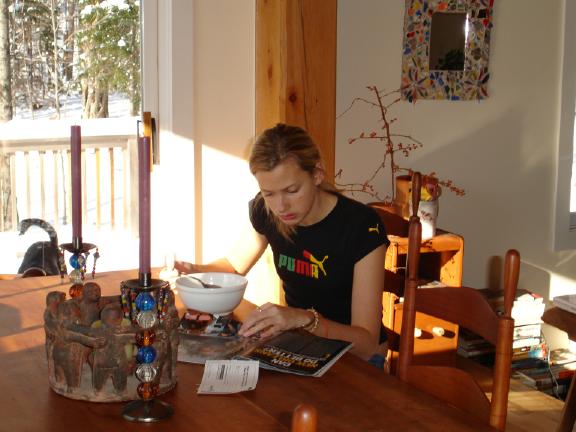 The next morning, she eats a healthy breakfast in the bright sunshine.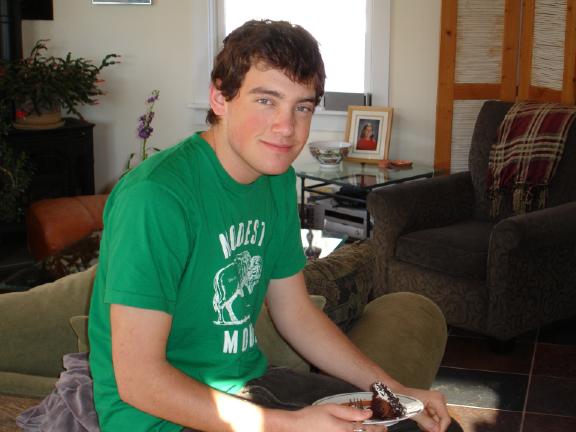 while Tim uncharacteristically goes for the very sweet chocolate cake...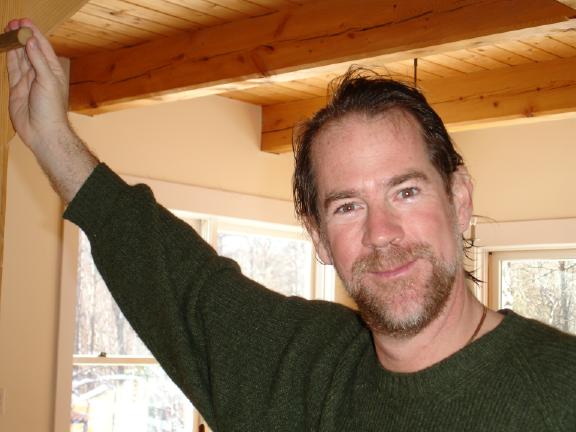 And here he is, Anaphylactic Boy!
Steve, the day after, glad to be alive and sans feeling of impending doom (one of the signs of anaphylaxis).
In addition to his regular practice of law, we hear that Steve will now be moonlighting
as a spokesperson for EpiPen, the simple medical device that saved his life this Thanksgiving.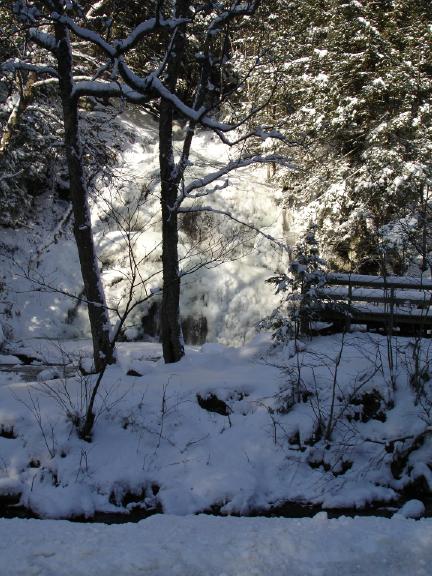 On the way home...the waterfall on Route 100,
eight miles south of the turnoff for Jude's house...