Liese moves to Philly!
September 21, 2006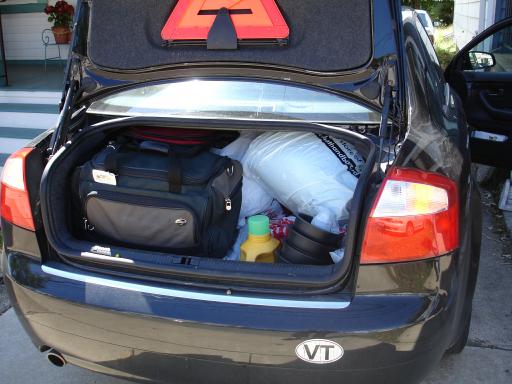 the trunk, all packed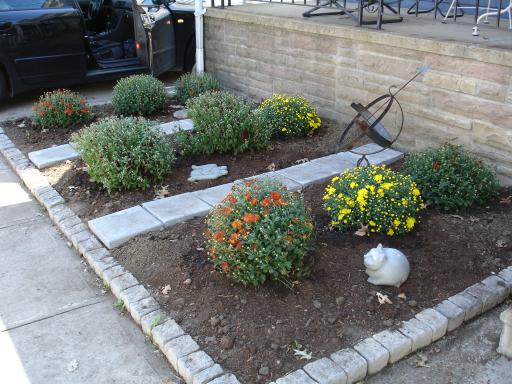 the mum garden out front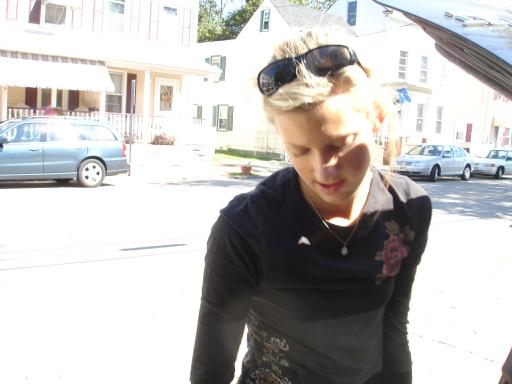 Liese does a final check--we're ready to go!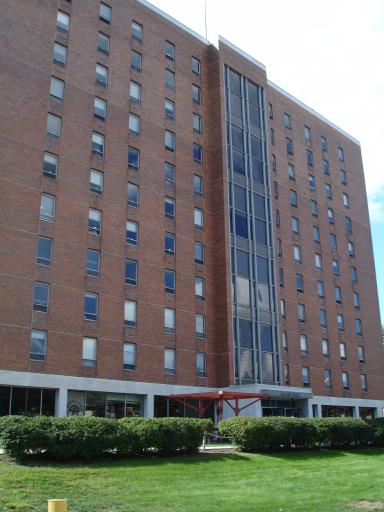 Kelly Hall, Liese's dorm. Philadelphia's police force was good
enough to close a few city blocks to through traffic to make move-in easier.
That's a lot of grass for Drexel, which is a very urban campus, concentrated in just a few city blocks.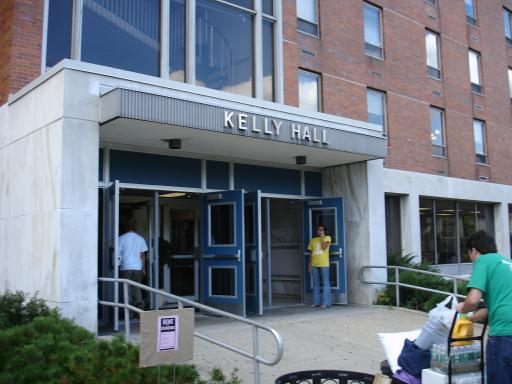 The volunteers in green t-shirts got everybody's stuff moved in quickly...
the dorms looked pretty decent to me.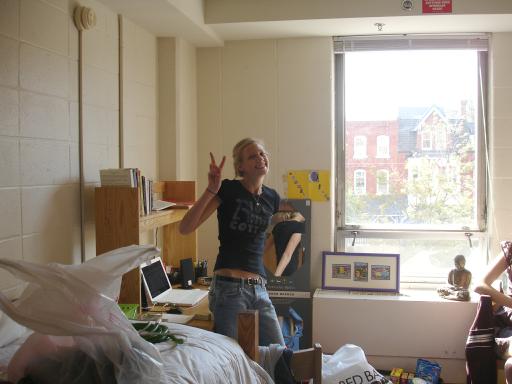 Liese FINALLY at home in Philly!
Row of fraternity houses across the street is picturesque, but may need to be drowned out some nights...
"First things first" Liese immediately set up her Macbook so she could have TUNES.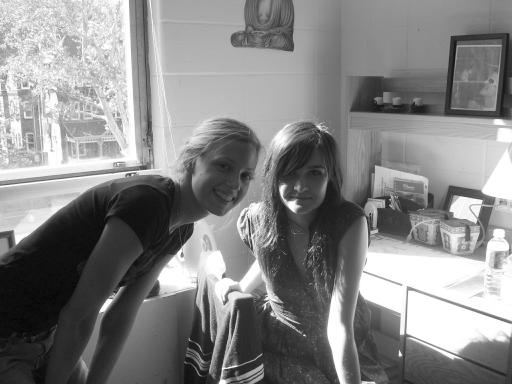 Liese and her roommate Claire...
Claire's mother also went to Drexel and lived in this same dorm!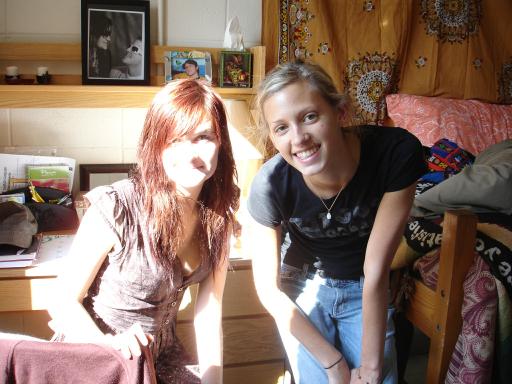 Claire and Liese again
Claire was born in England and Liese in Holland so they're the European girls.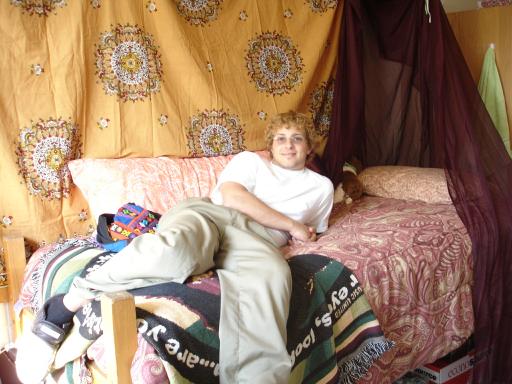 Claire's BF John who's studying at the Culinary Institute a few blocks away.
He can cook for the girls (both vegetarians) when they can't stand the dining hall anymore.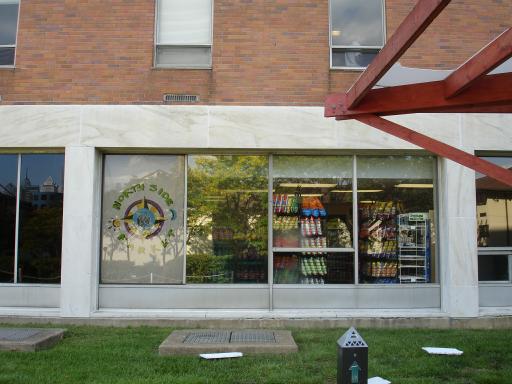 Liese's is the only dorm with a mini-market in the building.
Good for those late-night Twizzler runs!


close up from mini-market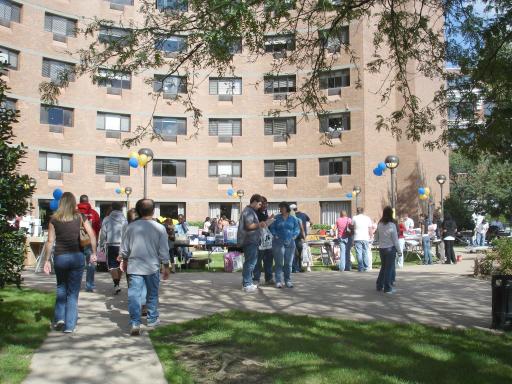 Poster fair outside Calhoun, another of the dorms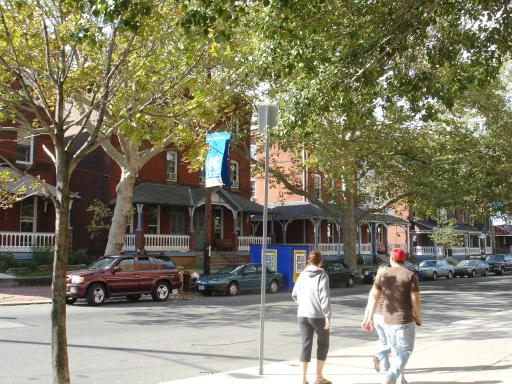 the neighborhood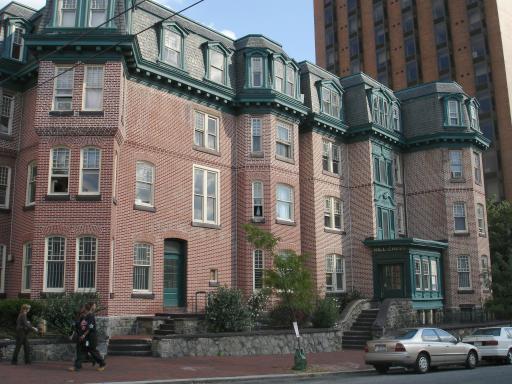 a renovated apartment building in the neighborhood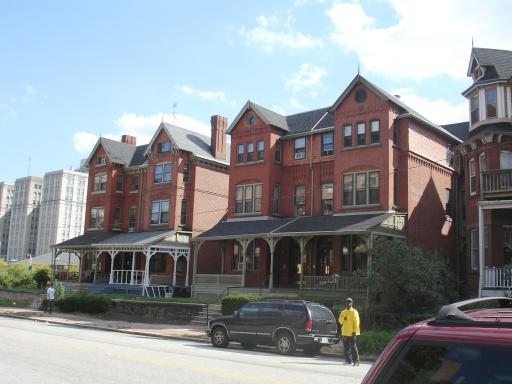 neighborhood houses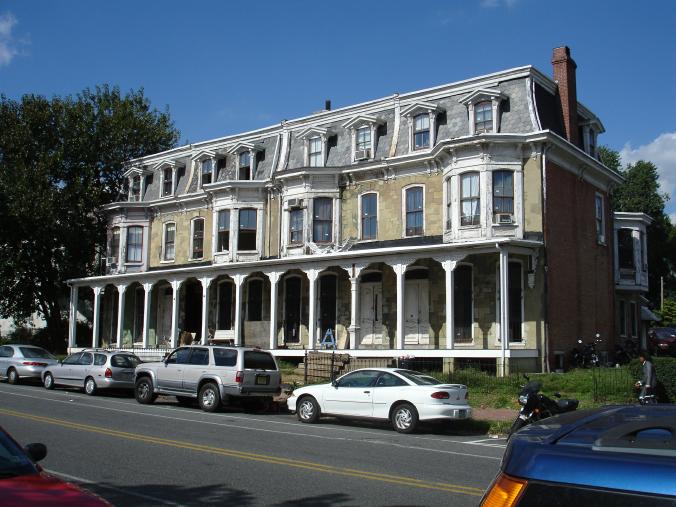 some fixer-uppers in the neighborhood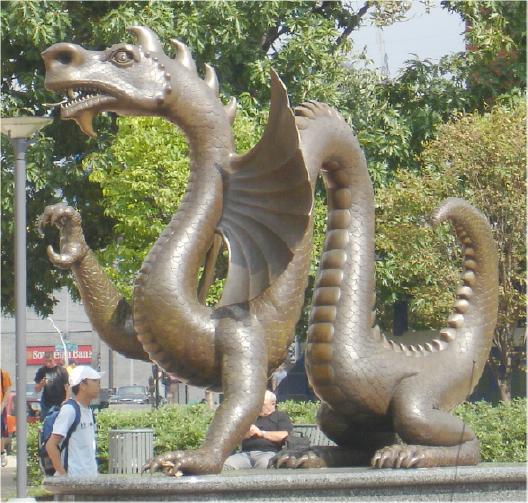 The Drexel Dragon, the school's mascot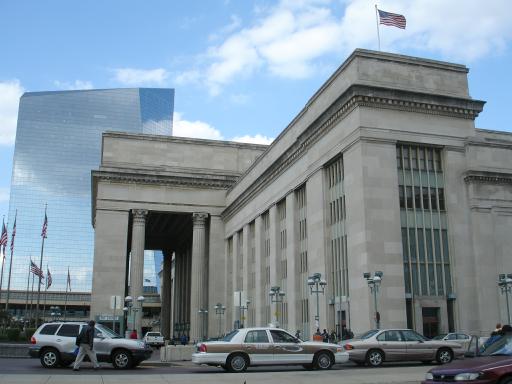 the 30th Street Station, the train station four blocks from her dorm...
from here she takes a train to Trenton where she switches for Bordentown.
and then she walks three blocks home. Round-trip costs $11 off-peak.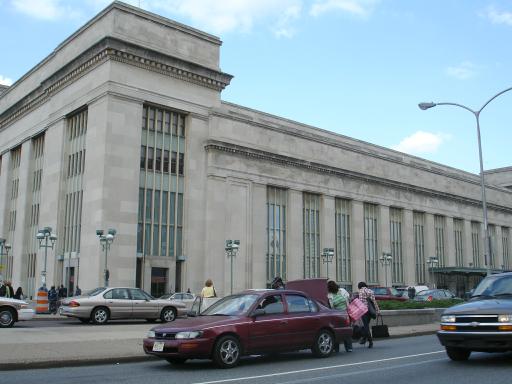 Driving it's 68 miles roundtrip at 20 mpg is 3.5 gallons at $2.50 is $8.75
plus the $2 toll to cross the Burlington-Bristol Bridge, for a total cost of $10.75.
You might as well take the train and read or sleep without any traffic worries!
And as gas gets more expensive, it's gonna be cool she can get home anytime she can scrape together eleven bucks.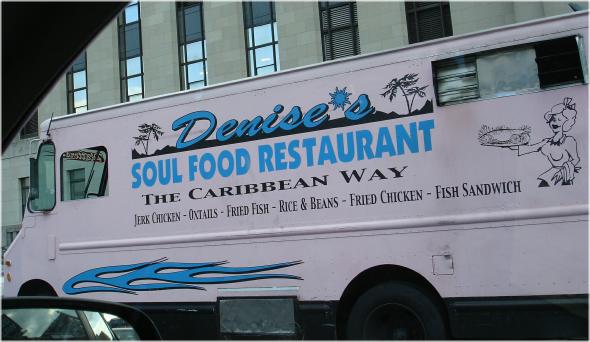 Soul food truck always parked outside the train station.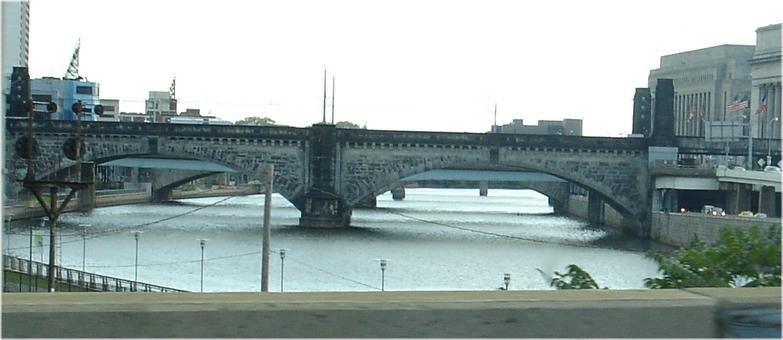 Bridge over the Schuylkill, the river that runs through Philly and separates Center City
(left, with all the museums and historical points of interest)
from University City (right, home of Drexel and the University of Pennsylvania).
The pronunciation of the name is SKOO-kill, which is a complete bastardization of how it would have sounded in the original Dutch.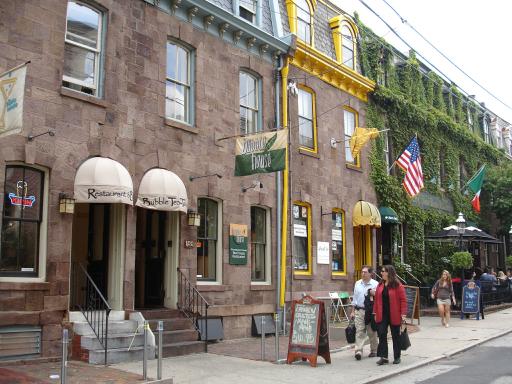 Samsun Street, a University City hangout with a European flavor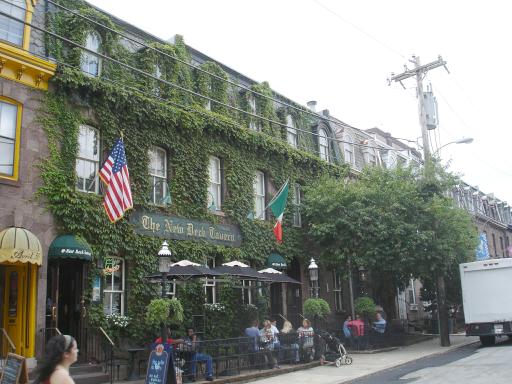 more shops and restaurants in old brownstones on Samsun

Entrance to the White Dog Cafe on Samsun,
famous for its combination of "food, fun and social activism"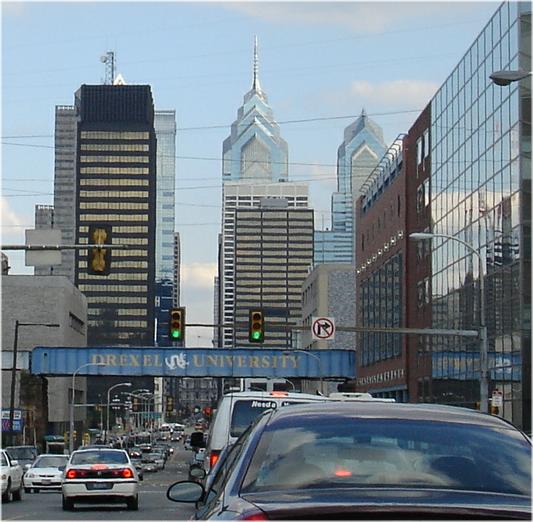 leaving campus, heading east on Market Street at rush hour
Wondering what it looks like this minute?
Check out Drexel's live webcam, pointed at the intersection of 32nd and Market, here.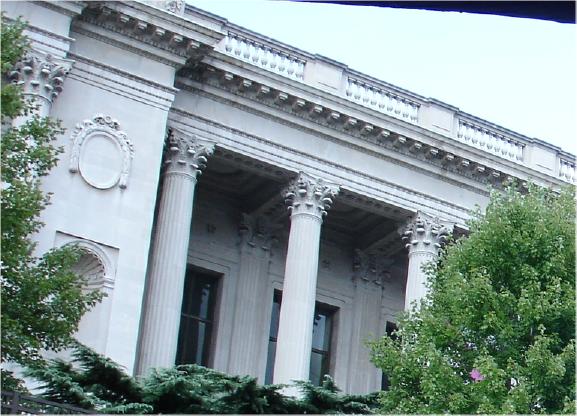 artistic shot of the The Philadelphia Museum of Art,
one of the country's major art museums, eight blocks away.
Students are $8 at all times and Sundays are pay-as-you-wish for everyone.
Still sorry I missed the Dali exhibit there last year!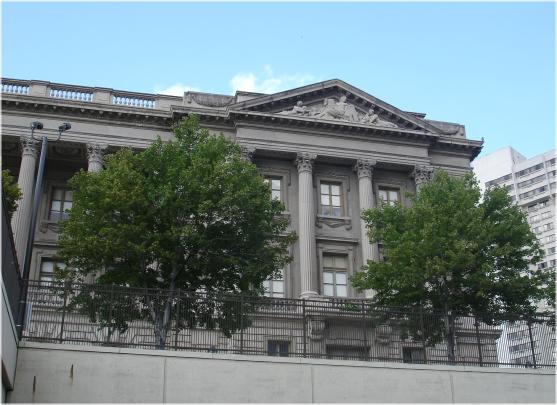 some other museum, who knows, there are lots...


Philly is full of cool Revolutionary War history.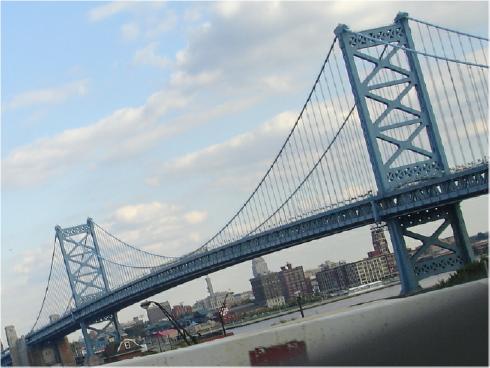 The Ben Franklin Bridge connects Philly to Camden, NJ,
the most violent city in the country. there on the other side of the Delaware.
That's not the one we take to get home though.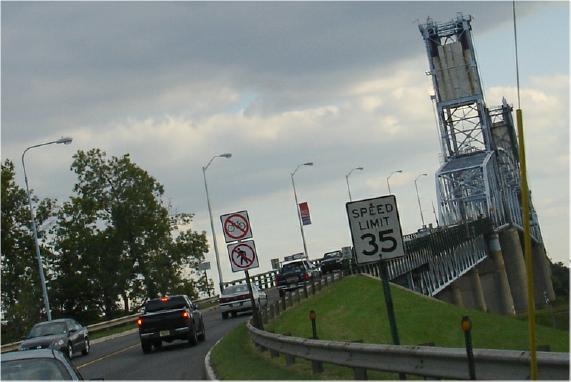 We take the skinny Burlington (NJ)-Bristol (PA) bridge twenty miles north.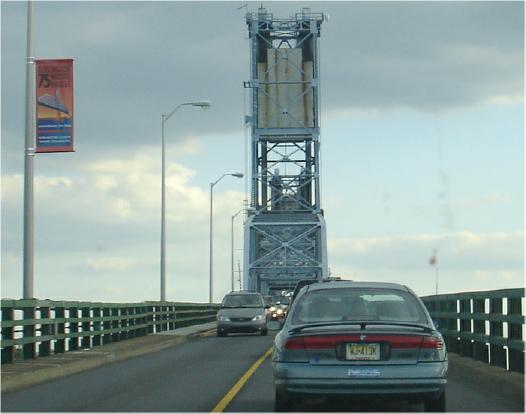 Like all bridges between NJ and PA or NY,
you never have to pay to ENTER Jersey, just to leave it, what does that tell you?
Once we're back on the other side of the river, it's just ten miles north home to Bordentown.
So come home soon Liesey! You're only 34 miles away!
Didja see the pix from Tim's move to Maine? And his transfer to Vermont?