Ferrying to Athens, Greece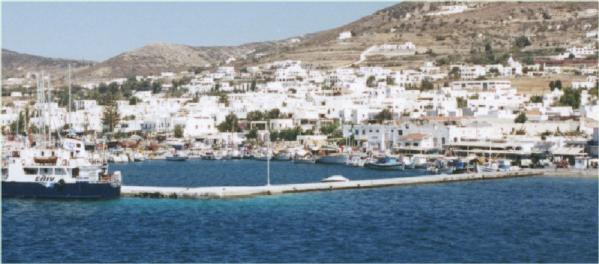 Our little ferry made a ton of stops from Amorgos to Athens. Here we are pulling into Paros.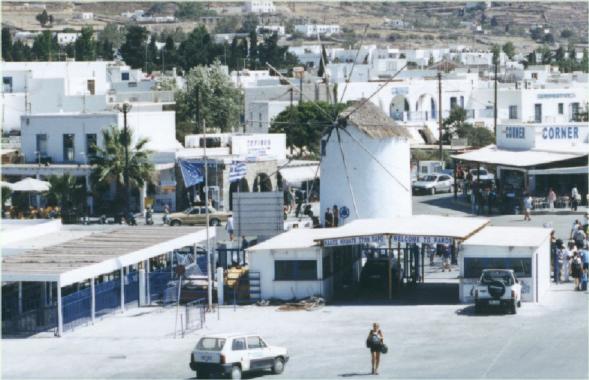 The port at Paros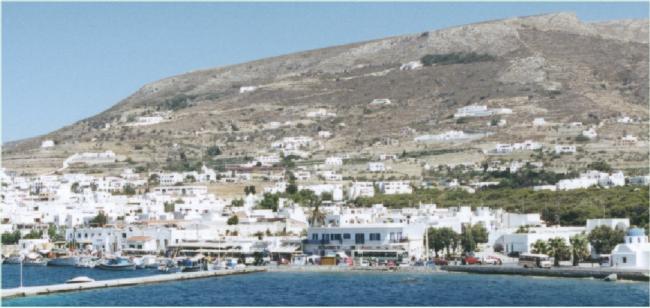 View of Paros for Paris, who helped us set up the trip
(he's a native Athenian who's building a house there).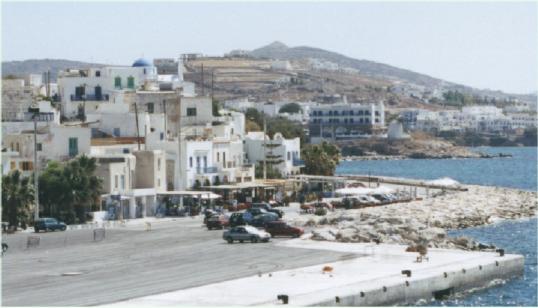 Another view of Paros for Paris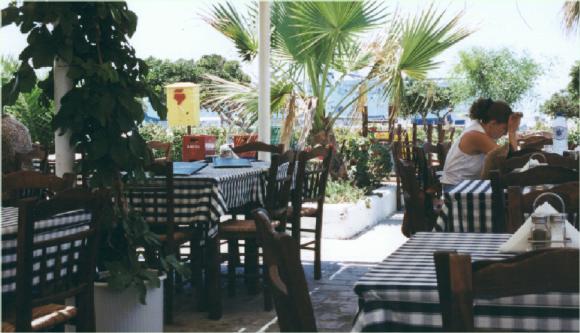 We finally arrived at Naxos, where we ate at this taverna
before catching a high-speed ferry back to Athens.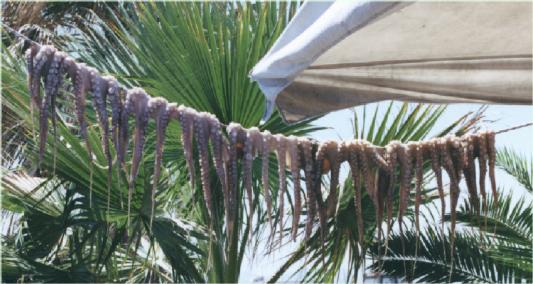 Octopi drying in the Naxian sun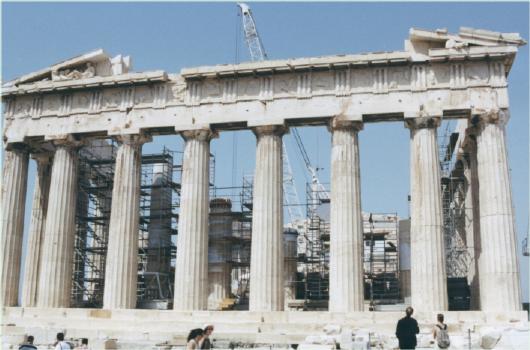 The Parthenon (Temple of Athena, goddess of wisdom, work and the arts)
on the Acropolis, Athens, under scaffolding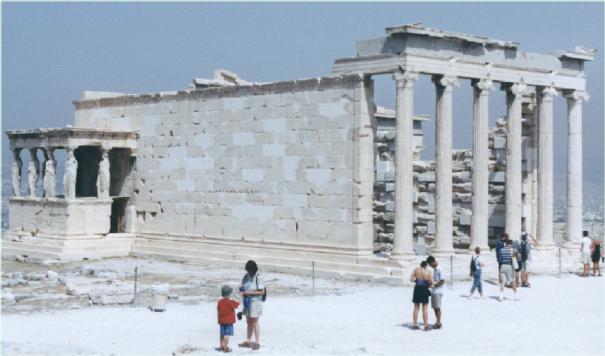 The beautiful Erechtheion, where Gaea (Earth), Athena, Hephaestus (Vulcan, the god of fire) and Poseidon (Neptune, the god of the sea) were worshipped.To the left, the Porch of the Maidens.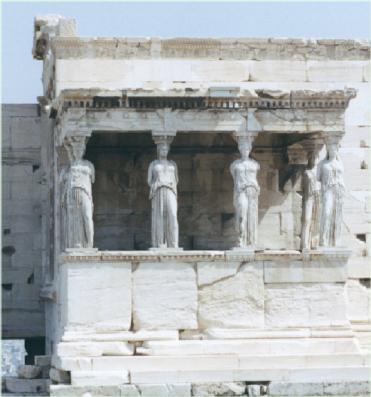 Close-up, Porch of the Maidens. The girls are called the Caryatids, and the ones you see here are all copies. Five of the six originals are in the Acropolis Museum; #6 is in the British Museum.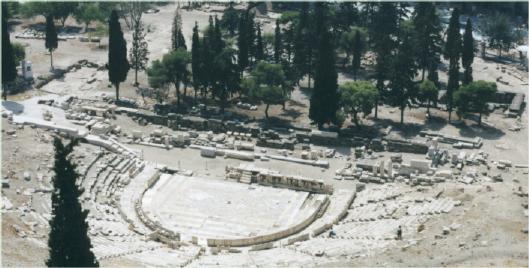 The ruins of the Theatre of Dionysus (Bacchus, the god of wine)
in the foothills of the Acropolis. This is the world's oldest known theater, and it's where you could have seen plays by Sophocles and Euripedes in their prime. There were seats for 17,000, including a VIP section (for priests and government bigwigs) consisting of the front row, which was constructed of pure marble (the rest was limestone).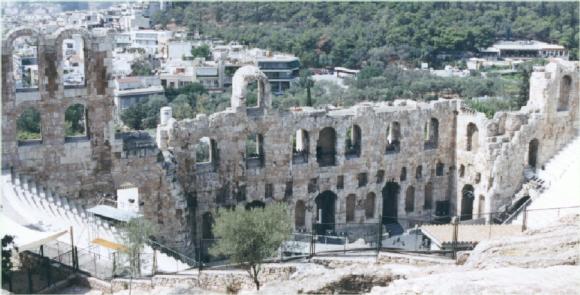 Ruins of the Odeion of Herodes Atticus,
a theater built in the second century A.D. in Roman style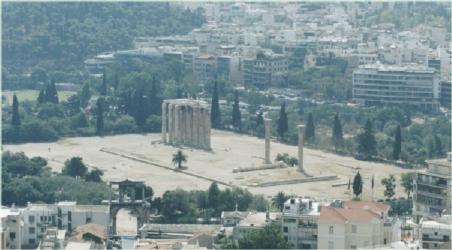 What's left of the Temple of Zeus Olympios,
the largest of the Greek temples, in the center of modern Athens.
It took 700 years to build.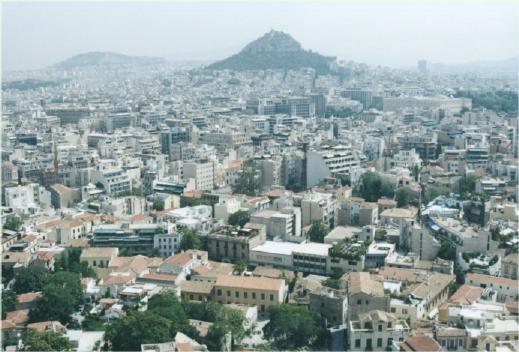 Athens looks like Rio de Janeiro or Los Angeles, a big modern sprawling city
with the sea in front of it and mountains behind.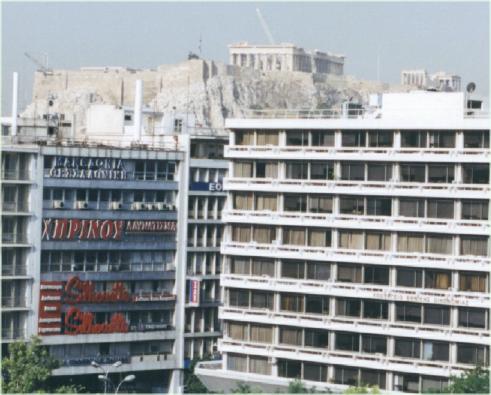 The Acropolis visible above the modern office buildings of downtown Athens
(taken from our hotel balcony).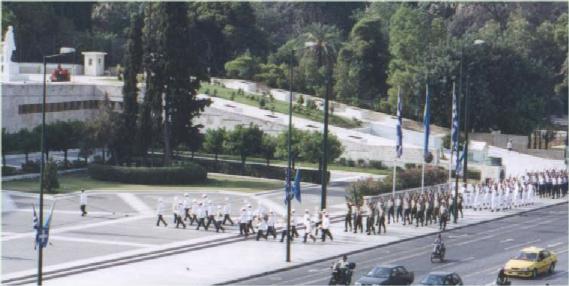 An honor guard was marching up the street to the Greek Parliament Building
in connection with a visit by the president of Kazakstan.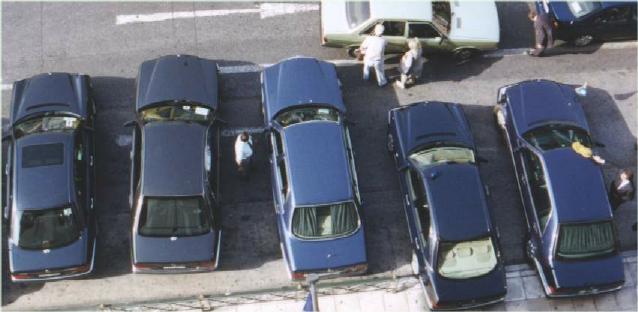 The Kazakstan President was staying in our hotel and had a whole squadron of security cars parked right underneath our room.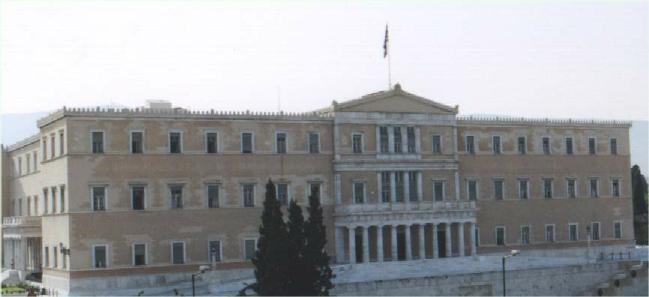 Parliament Building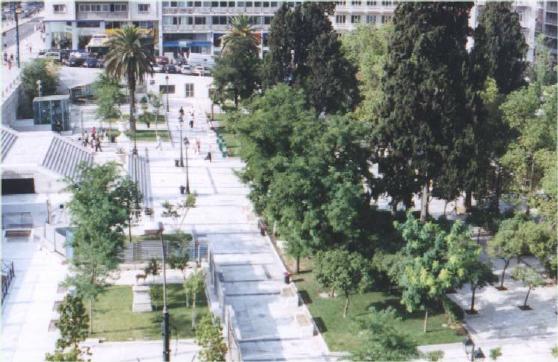 ...and part of the national park in the square it faces.
On to the Acropolis Museum
On to Aegiali
On to Nis Nikuria
On to Hora
On to the rest of Amorgos