Ormos Aegialis
Amorgos, Greece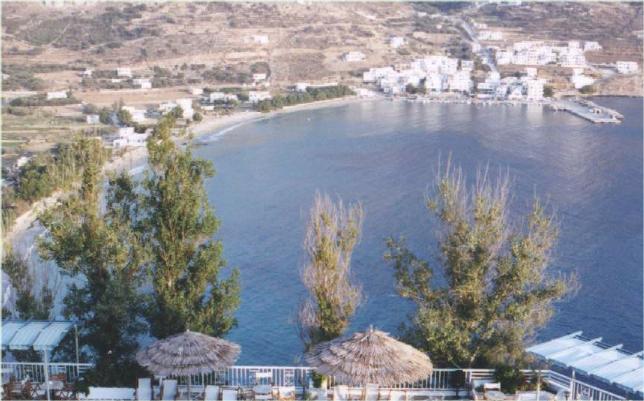 View of Aegiali Olmos (Aegiali Bay) from our hotel room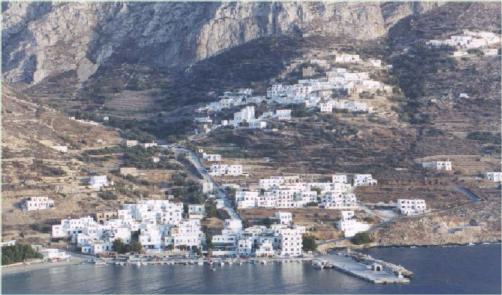 The little port of Aegiali, where we arrived by ferry from Athens at 6 a.m.,
with characteristic lower and upper towns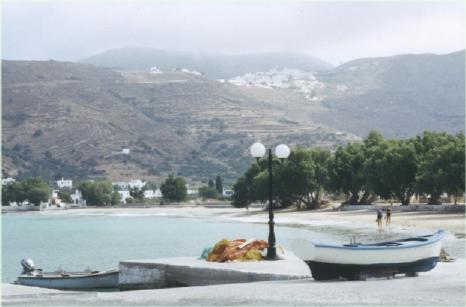 The beach at Aegiali, with the village of Tholaria on the hillside in the background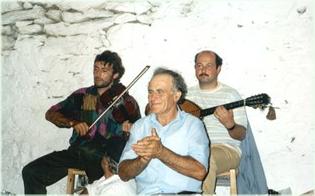 When in Tholaria, the place to be is the restaurant Panorama. The old man here is a master storyteller. We were the only people there who didn't speak Greek, so I can't tell you what his stories were about, but they were brilliantly set up and the crowd erupted into hysterics at every punchline. He's also the waiter, though, so be prepared to sit a spell if he's in the middle of a good one!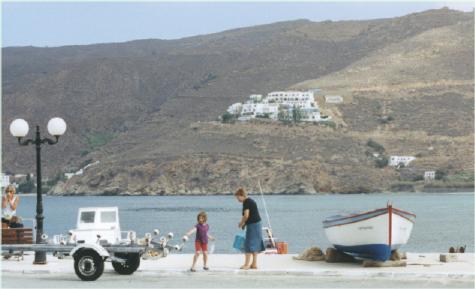 Our hotel, the Aegialis, as seen from the pier at Aegiali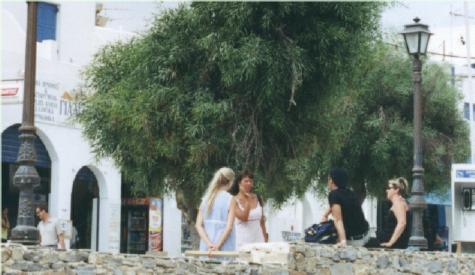 Folks gather in the square to chat.
(These must be tourists: if they were Greeks
they'd have a cell phone in one hand and a cigarette in the other.)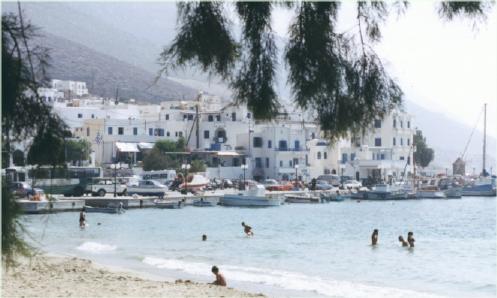 Swimmers at Aegiali, lower town in the background
(this is the busiest beach on the island!)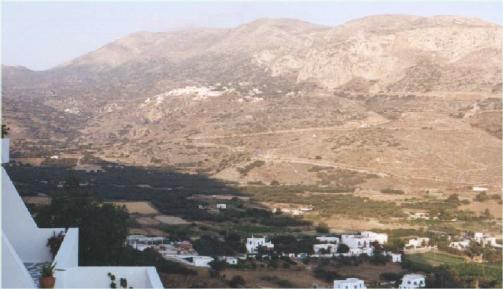 The mountainside village of Langada as seen from our hotel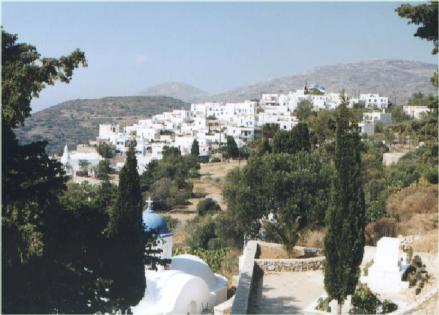 Getting close to Langada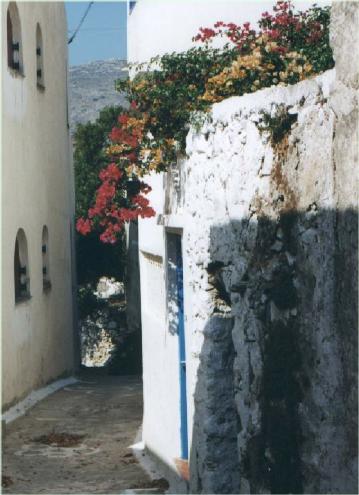 Walking through quiet Langada at siesta time on a very hot day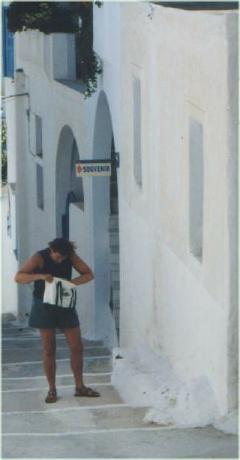 Deb looking for more film in Langada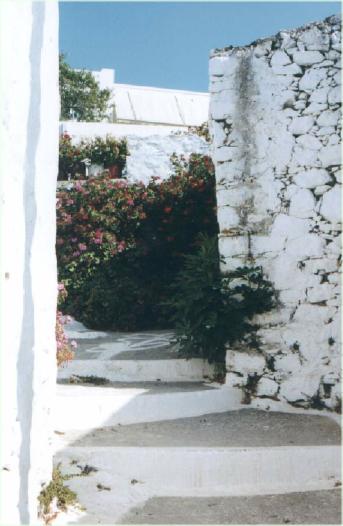 Always lots of stairs in Greece...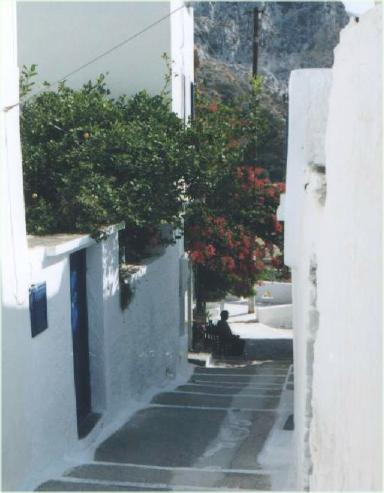 At least these are going down...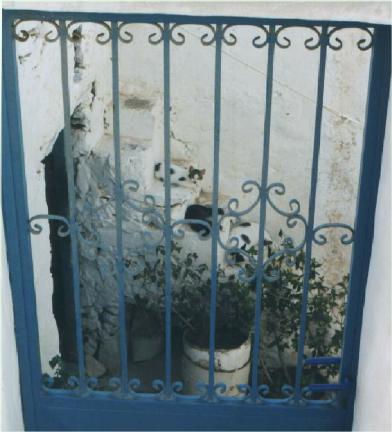 Typical scene: blue gate, whitewashed walls,
potted plants and cute little cats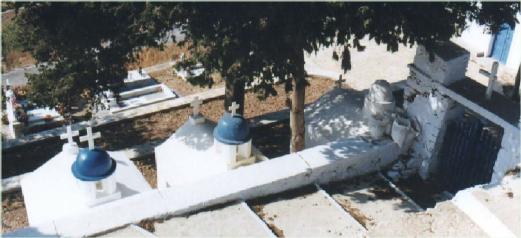 A chapel and graveyard beneath street level in Langada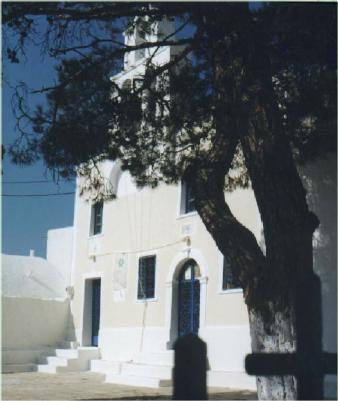 A church in Langada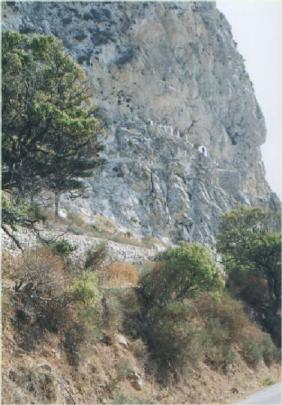 The cemetery on the mountain at Langada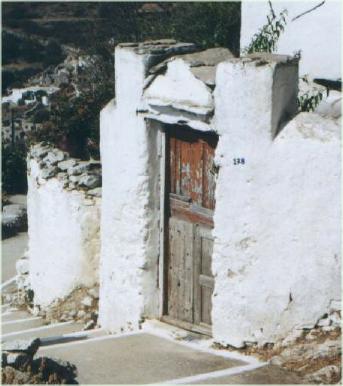 Langada door in need of a paint job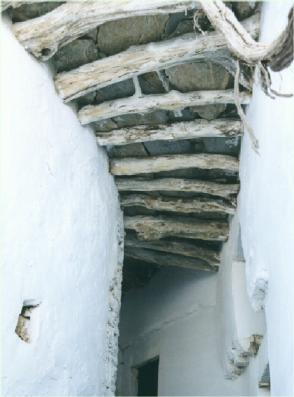 Suspended bridge made of logs in Langada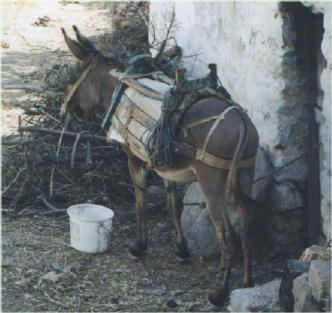 Another Greek donkey takes a well-deserved break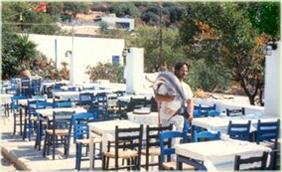 When in Langada, you must eat at Niko's,
the best restaurant on the island!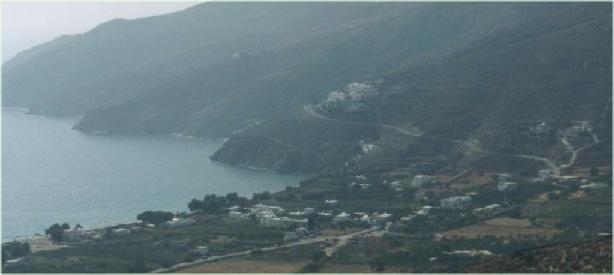 Road back to our hotel as seen from Langada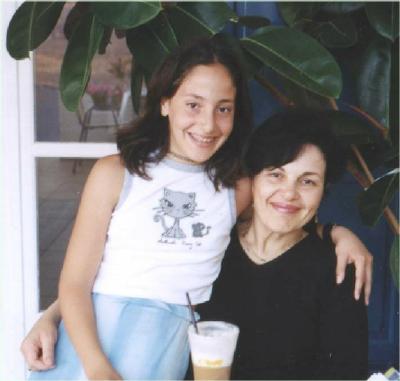 Our lovely hostess at the Aegialis, Rinni,
and her 13-year-old daughter
| | |
| --- | --- |
| Hotel accordionist | Hotel violinist (Rinni's son) |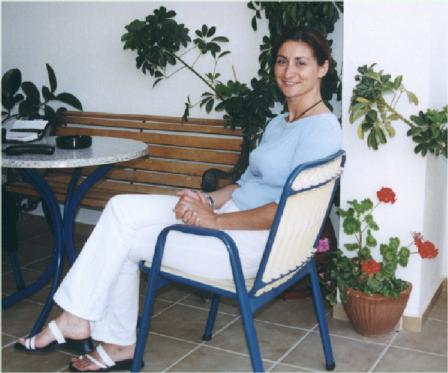 Charming Maria, an English teacher from the mainland
who works summers at the hotel's front desk.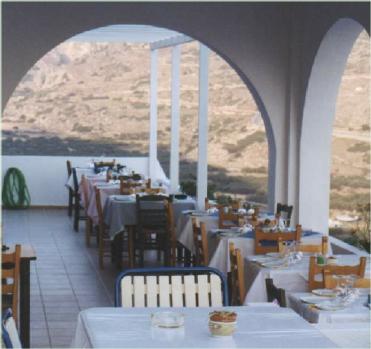 Hotel terrace set for dinner
On to Nis Nikuria
On to Hora
On to the rest of Amorgos
On to Athens
On to the Acropolis Museum
If that's not enough Greece for you, you can always look at the
1999 pictures from Santorini again. They're here, here and here.