By the beach and pool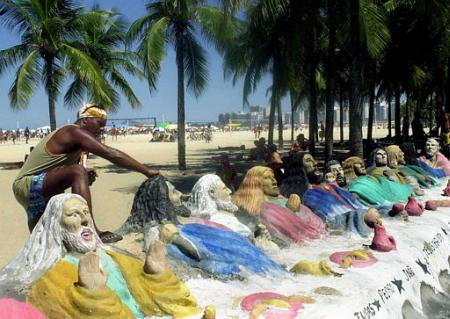 The day we came back from Angra was Holy Thursday
and Leo Rios Pereira had constructed the Last Supper
in sand on Copacabana Beach, it was so cool!
(photo copyright Associated Press)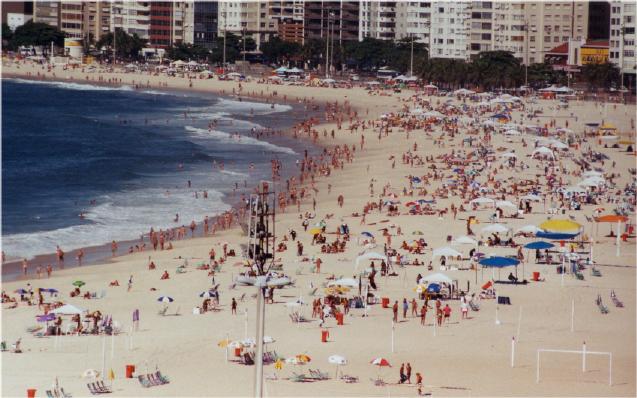 As seen from the balcony off the business center of the hotel,
Copacabana Beach just getting started on a Saturday morning...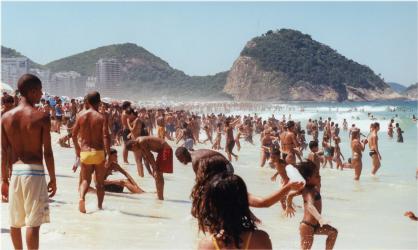 Copacabana (the longest of Rio's four main beaches--the others are Ipanema, Leblon and Leme)
was teeming with life on Easter Saturday. I found it hard to read
at my usually high vacation rate; there was too much action to watch on the beach!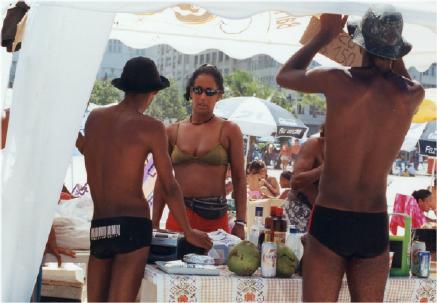 These enterprising folks set up a beach bar offering chopp (local light beer),
caipirinhas (lime juice, sugar and cachaca, Brazilian sugar cane liquor)
and the electrolyte-replacing agua de coco. Brazil is refreshingly free of the
rules and regulations that govern all attempts to have fun in the U.S.
And everybody cleans up after themselves!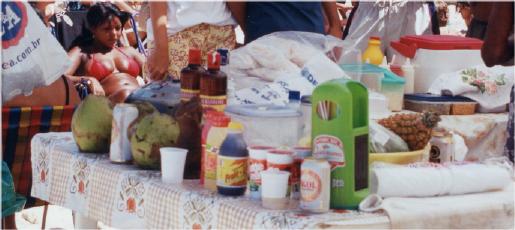 Close-up of bar ingredients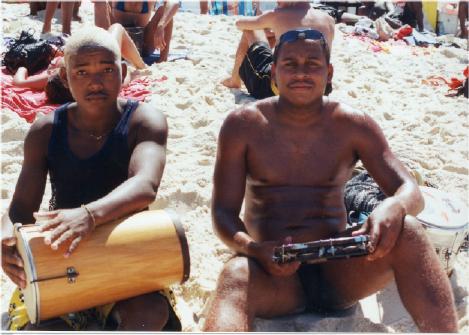 These drummers seemed surprised I wanted to take their picture.
Don't they have percussionists on the beach where I come from?
No they don't!
We also bought some cool drums for Tim's drum teacher Mark
from a Rastaman with knee-length dreds at the Hippie Market in Ipanema.


Praia means beach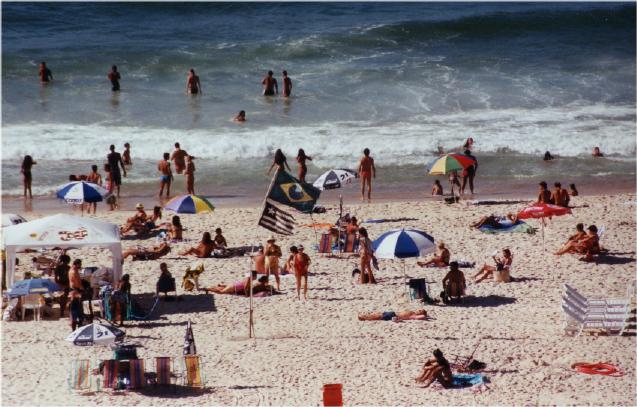 The waves are big and strong; swimming in Rio takes some guts.

Typically lovely Brazilian girl,
holding a plastic bottle she will fill with fresh water to drink or wash the salt off.


These girls were cracking themselves up playing one of those rhythmic clapping games all pre-teen girls enjoy.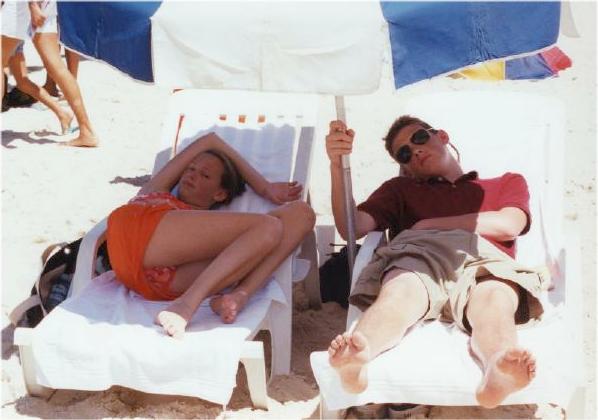 Liese and Tim stay out of the very hot sun under an umbrella.
This compelling, unsmiling little girl was selling delicious salted peanuts wrapped tightly
in paper cones. Without leaving our chairs, we bought food, drink, clothes, jewelry
and local handcrafts from vendors who walk the beaches all day long hawking their wares.
We especially liked the distinctive call of the "Aguameloncia!" (watermelon) man.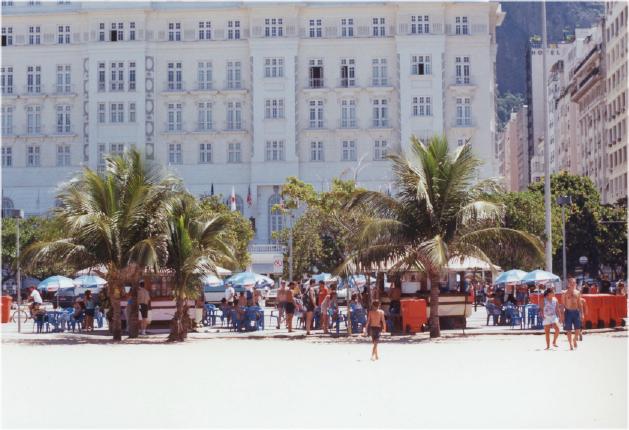 The hotel as seen from the beach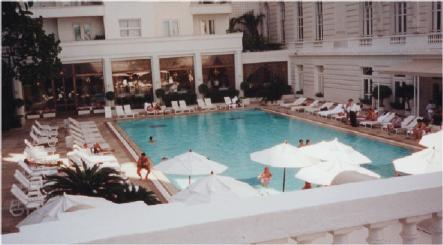 The pool at the hotel, literally just steps away from
the free public beach but a whole different world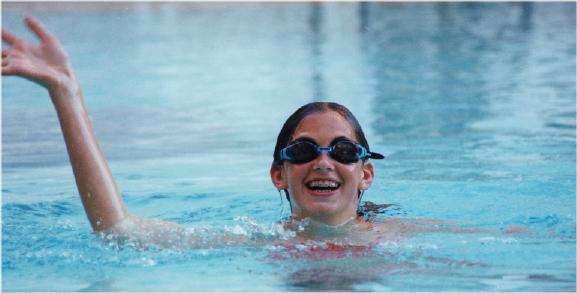 Liese was a real fish, she put in a lot of hours in the water.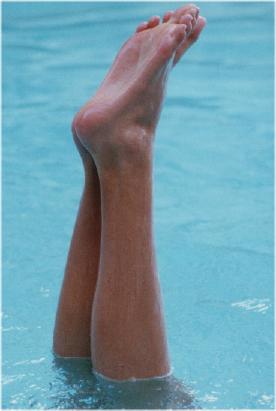 She even managed to perfect
her underwater handstands.
Deb and Tim chillin' by the pool for one more hour before we go out
for our last dinner in Rio, a Bahian seafood variation of the traditional meat churrasco.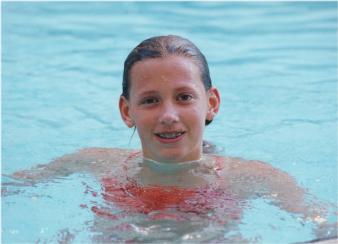 While Liese stays in the water until the very last minute...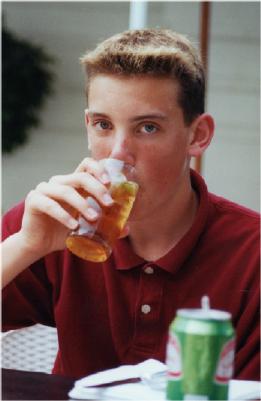 Finally, she dried off, Tim had a last
Guarana and we were, alas, outta there.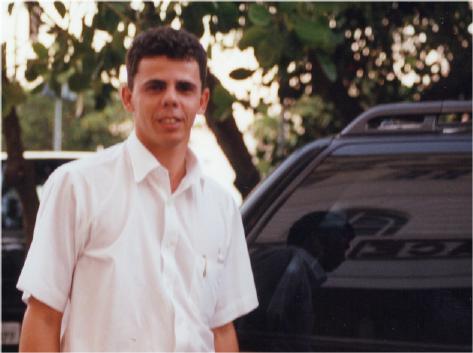 Muito obrigada (many thanks) to our driver Marcello, who also took the pictures of all four of us on Corcovado.
Marcello was a great guide and even brought us all the way out to Angra and back in his comfortable Ford Jeep.
E mas um muito obrigada to Eliety for making all the arrangements for our fantastic trip!
On to Corcovado/Pao do Acucar
On to Angra dos Reis
On to the Botanical Gardens
Back to THP