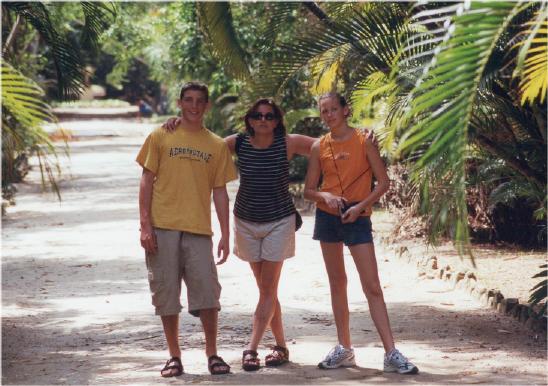 Tim, Deb and Liese pause in the heat of the
Botanical Gardens in Rio de Janeiro, March 2002

My new career is announced in the Princeton Packet, January 2005

North Hero, Vermont and Montreal, Quebec, August 2004

North Hero Island, Vermont, July 2003

Antiwar demonstration, Washington, DC, January 18, 2003.

Thanksgiving in Vermont 2002

European vacation August/September 2002:

Languedoc, France (and a little Catalonia, Spain)
Paris, France
Amsterdam, Netherlands
Brabant, Netherlands

Took the kids to see Garbage in Philadelphia. Great show. Read my review!

March 2002 - Back to Brazil! This time the kids came as well and it was great.
Take a look at a little bit of this beautiful country. Start in Rio at the top of Corcovado.

September 28, 2001 - Visit to New York's Financial District and Union Square, two weeks after 9/11.

July 2001 - Vacation to Amorgos, Greece

August 2001 - Vacation to North Hero Island, Vermont,
with side trips to the Shelburne Museum and Montreal.

Vacation to Sarasota March 2001

November 2000: Return to California
Santa Monica
Venice Beach
Universal Studios



After 14 years, I finally got to visit LA again and show
the kids where I lived in the early 80s...lots of fun!